Breadcrumbs
Breadcrumbs are based on the hierarchy of the pages.
Setup a page that will be used as the top of the Hierarchy, this page could already exist.
Next, create a new page or edit an existing

Go to the Page Attributes section
Click on the Parent drop-down menu
Choose the parent page from the list of pages

Publish or Update the page
To see what this looks like,
Go to Pages, view all pages.

Scroll down to the parent page. You can see that hierarchy shown with the dash next to the child(ren) page(s). In the screenshot below, the Graduate page is the parent of the Admissions and Events pages.
Now that you have setup Page Hierarchy, you may want to turn on Breadcrumbs,
Go to Appearance > Customize > Navigation Options > Breadcrumbs, the breadcrumbs will display on top of the child(ren) page(s).
Set Breadcrumbs On
Go to a child page and you will see the breadcrumbs above the title of the page.

Precrumbs
Precrumbs can be added to the left of the Breadcrumbs.
Go to Appearance > Menus
Click on create a new menu
Enter "Precrumbs" as the Menu Name
Add menus items
click on Save Menu.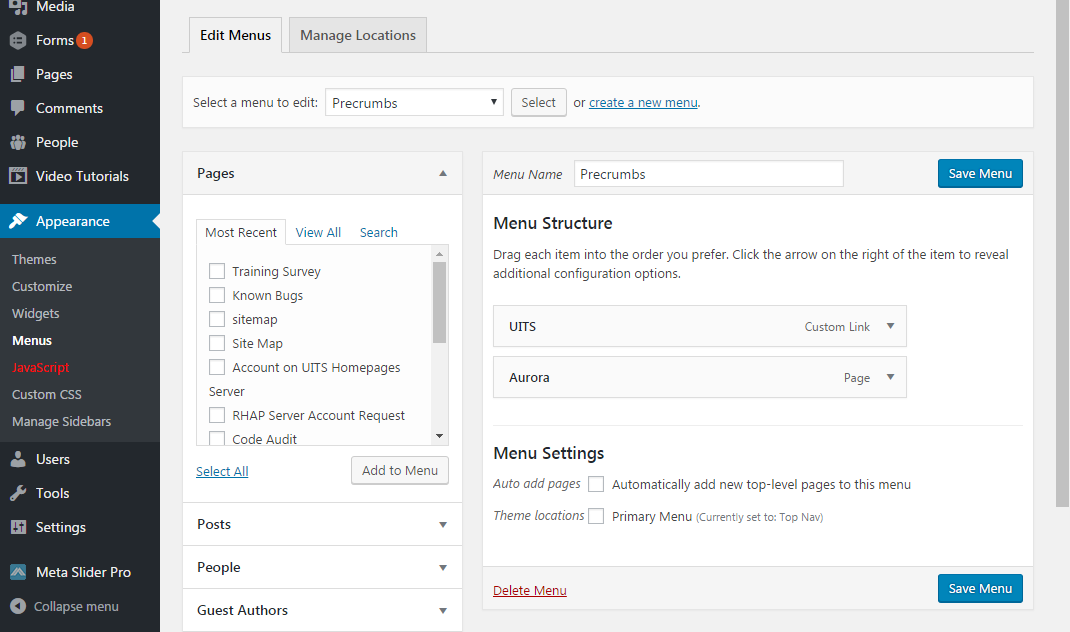 The Precrumbs and Breadcrumbs are displaying on the top of the Other Custom Plugin page on the Aurora website, see the image below.
Related Articles